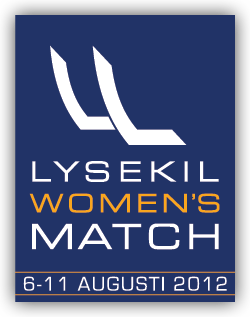 Routine pays off in Lysekil Women's Match
– Ulrikkeholm and Björling Duell undefeated after windy start
After a very windy first day in Lysekil Women's Match, two ladies with a lot of routine are undefeated in the top of the results. Danish titleholder Camilla Ulrikkeholm is leading on three victories, with Swede Marie Björling Duell holding second place with two won matches.
– Really good starts helped us take three fairly safe victories today. We're happy for numerous practising sessions on our home waters at Skovshoved, Ulrikkeholm says, adding that eight years experience from this type of boat, the DS 37, makes a difference.
For Marie Björling Duell and her crew from the Royal Gothenburg Yacht Club this is the first event since the World Championships in match racing in Lysekil 2009. Then the former top sailor, world-ranking leader for four consecutive years between 2001 and 2005, won her sixth silver medal. In spite of the long absence from the match racing scene, Björling Duell & Co showed today that they cannot be counted out.
– We have practised a lot before this comeback, but practising and racing are two completely different things. The quick decisions that had to be taken today really started up my match racing brain again, she says, admitting it was good fun to be back racing.
In winds with gusts well over 30 knots the racing was postponed on Tuesday morning, and the first flights didn't start until after lunch. Only Swiss Alexa Bezel did four races today, and with two victories and as many losses, she trails Dutch Mandy Mulder and home sailor Caroline Sylvan who shares third place with a 2 – 1 record.
– Our speed was great today, but we had some problems with the manoeuvres and always felt a little too late in our preparations, says Bezel, who at her home waters of Lake Zürich is used to the Blu 26, sailed by five crew.
– We sailed really fast upwind, but we still need some more practise downwind. A few times we dropped the sheets under the boat, and that doesn't help, Mandy Mulder smiles.
– We made only a few small mistakes and felt a little stressed sometimes, but with excellent crew work and communication onboard we feel great and are really looking forward to the rest of the week, Caroline Sylvan comments.
The round-robin in Lysekil Women's Match continues Wednesday.
Event standings in Lysekil Women's Match after day 1, start of round-robin. Place/name/nationality/victories/lost matches:
1. Camilla Ulrikkeholm, DEN, 3 – 0
2. Marie Björling Duell, SWE, 2 – 0
3. Mandy Mulder, NED, 2 – 1
3. Caroline Sylvan, SWE, 2 – 1
5. Alexa Bezel, SUI, 2 – 2
6. Sally Barkow, USA, 1 – 2
7. Silvia Roca Mata, ESP, 0 – 2
7. Petra Kliba, CRO, 0 – 2
7. Anna Kjellgren, SWE, 0 – 2
Remaining program for Lysekil Women's Match:
Wednesday August 8, round-robin continues
Thursday August 9 in the morning, end of round-robin
Thursday August 9 in the afternoon, "quarter finals" with the six best skippers
Friday August 10 in the morning, end of "quarter finals" with the six best skippers
Friday August 10 in the afternoon, semi finals
Saturday August 11 in the morning, semi finals
Saturday August 11 in the afternoon, final
Lysekil Women's Match is with a 300 000 SEK (45 000 USD) prize purse the largest yearly event for women match racing sailors, concerning the mix of spectators, publicity and prize money. In match racing the crews meet two by two in exciting duels that can easily be followed and understood by the spectators.
Ten of the world's leading women match racing sailors participates in the seventh issue of Lysekil Women's Match, August 6-11 2012, arranged by Sailnet Lysekil AB in cooperation with Lysekils SS Gullmar.
Main sponsor for Lysekil Women's Match is Preem. Midroc, Phonera, Musto, Svitzer and Liros are partners, and the municipality of Lysekil host city.
For more information including news and photos:
www.lysekilwomensmatch.se
www.facebook.com/lysekilwomensmatch