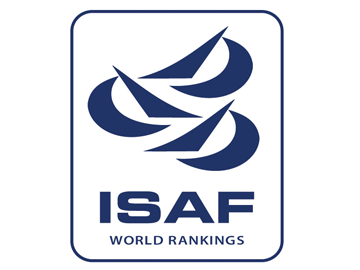 Since the turn of 2012 there has been no change in the Open and Women's Match Race Rankings with Ian Williams (GBR) and Anna Tunnicliffe (USA) once again retaining their place at the top.
Open Rankings
The Alpari World Match Racing Tour got underway in May with Match Race Germany starting the Tour followed by Korea Match Cup shortly after.
The Petit Final and Final were cancelled due to lack of wind at Match Race Germany with the final results decided on count back. Phil Robertson (NZL) therefore took the honours to move up to World #5. Runner up, Laurie Jury (NZL) continues his climb up the rankings and moves to a person best of World #7.
Less than one week later Bjorn Hansen (SWE) claimed a 3-2 victory over Ian Williams at the Korea Match Cup. The win catapults the Swede up to World #2 whilst Williams extends his advantage at the top of the tree.
After putting her disappointment of missing out on the American Women's Match Racing spot at the London 2012 Olympic Sailing Competition Sally Barkow has continued to impress in the Open Match Racing scene. The American finished third at the ISAF Grade 2 Chicago Match Cup Qualifier which moves her into the top 25 for the first time.
Chicago Match Cup Qualifier winner, Taylor Canfield (ISV), moves up to World #19, a personal best, following his victory against Jordan Reece who also climbs up the rankings to #21.
Women's Rankings
By Anna Tunnicliffe's standards, she was off the pace at the start 2012 Skandia Sail for Gold Regatta, the sixth of seven ISAF Sailing World Cup Regattas. But after fighting hard all week she managed to salvage a third place finish thus sealing the Women's Match Racing ISAF Sailing World Cup title.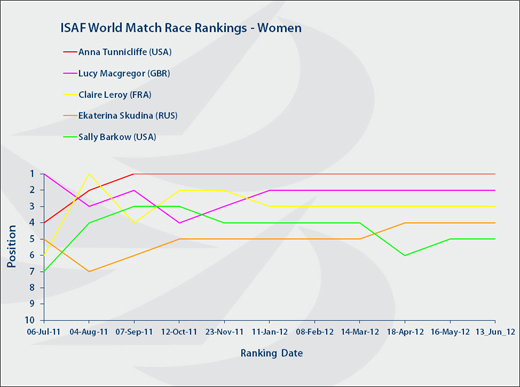 The ISAF Rolex World Sailor of the Year has held top spot in the Women's Match Racing Rankings since September 2011 and with the Women's Match Racing Worlds in Gothenburg, Sweden on the horizon Tunnicliffe will be tough to topple ahead of the London 2012 Olympic Sailing Competition.
Australia's Olivia Price is hitting the right note, at the right time after she defeated Claire Leroy (FRA) 2-1 in the Skandia Sail for Gold final. The Australian will be the youngest competitor in the Women's Match Racing Event at London 2012 but despite her youth she has a winning mentality. She has swiftly moved up the rankings in 2012 with a string of impressive results and has moved up to a person best of World #6.
Click here for the Women's Rankings
The next release of the ISAF World Match Race Rankings will be 18 July 2012.
ISAF World Match Race Rankings -
www.sailing.org/mrrankings
(From the ISAF website:
www.sailing.org
)