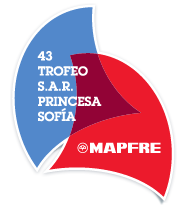 The last day of the women's match racing at the 43rd Trofeo S.A.R. Princesa Sofia MAPFRE saw some excellent racing in the Petit-Finals and the Finals. The Bay of Palma presented a perfect day – sun, wind and a few waves.
The first win in the Petit-Finals went to Olivia Price (AUS) as she led all the way around the course. The second flight saw a penalty to Tamara Echegoyen (ESP) but she was able to clear it and still stay ahead to even the score 1 – 1. Price (AUS) led around the course in the third flight to take the Bronze medal.
In the Finals, Anna Tunnicliffe (USA) took an early 2 – 0 lead over Claire Leroy (FRA). In the third flight, Leroy won the start and led all of the way around the course to stay alive and force another match. In the fourth flight, the match was very close until the leeward mark where Leroy had a messy spinnaker drop and never recovered. Tunnicliffe sailed to victory and a 3 -1 score to win the Gold medal.
Finals:
Tunnicliffe (USA) defeated Leroy (FRA) 3 – 1
Petit-Finals:
Price (AUS) defeated Echegoyen (ESP) 2 – 1
Overall Results:
1 - Anna Tunnicliffe (USA), Molly Vandemoer, Debbie Capozzi
2 - Claire Leroy (FRA), Elodie Bertrand , Marie Riou
3 - Olivia Price (AUS), Nina Curtis , Lucinda Whitty
4 - Tamara Echegoyen (ESP), Angela Pumariega , Sofía Toro
5 - Ekaterina Skudina (RUS), Elena Siuzeva, Elena Oblova
6 - Lucy Macgregor (GBR), Annie Lush , Kate Macgregor
7 - Mandy Mulder (NED), Annemiek Bekkering , Merel Witteveen
8 - Sally Barkow (USA), Elizabeth Kratzig-Burnham , Alana O'Reilly
9 - Renee Groeneveld (NED), Annemiek Bes , Marcelien de Koning
10 - Silja Lehtinen (FIN), Silja Kanerva , Mikaela Wulff
11 - Stephanie Hazard (NZL), Jenna Hansen, Susannah Pyatt
12 - Silvia Roca (ESP), Eva Gonzalez, Lara Cacabelos
13= - Genny Tulloch (USA), Jennifer Chamberlin , Alice Manard Leonard
13= - Anna Kjellberg (SWE), Malin Källström , Lotta Harrysson
15 - Lotte Meldgaard (DEN), Susanne Boidin, Tina Gramkov
16 - Silke Hahlbrock (GER), Vera Dubina, Irina Lotsmanova
17 - Stephanie Roble (USA), Maggie Shea , Darby Smith
18 - Rita Gonçalves (POR), Mariana Lobato, Diana Neves