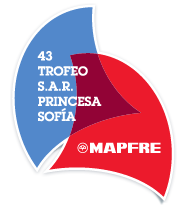 A fresh 15-18 knots of sea breeze challenged the sailors for the penultimate day of women's match racing at the 43rd Trofeo S.A.R. Princesa Sofia MAPFRE.
Anna Tunnicliffe (USA) was the first to punch her ticket for the Finals when she dispatched of Olivia Price (AUS) 3-0 in the Semi Finals.
The other Semi Final was fought to a "winner take all" 5th match. Tamara Echegoyen (ESP) received a penalty in the pre-start but led all the way around the course. She tried to lure Claire Leroy (FRA) into an offsetting penalty at the finish, but Leroy escaped with a green flag and crossed the line first to advance to the Finals.
Tomorrow will see Echegoyen and Price sail for the Bronze medal while Leroy and Tunnicliffe sail for the Gold.
Semi Finals:
SF1 – Leroy (FRA) defeats Echegoyen (ESP) 3 - 2
SF2 – Tunnicliffe (USA) defeats Price (AUS) 3 – 0
5-6:
Skudina (RUS) defeats Macgregor (GBR) 1 - 0
7-8:
Mulder (NED) defeats Barkow (USA) 1 - 0
5-8 Sail Offs:
1- Macgregor (GBR) defeats Barkow (USA) 1 - 0
2- Skudina (RUS) defeats Mulder (NED) 1 – 0
The Finals and Petit Finals are scheduled to begin at 1000 tomorrow.
For more information, please visit
www.WIMRA.org
or
www.trofeoprincesasofia.org
.
The results are being updated live on
http://www.matchracingresults.com/2012/trofeo-princesa-sofia/
.
Follow the Twitter feed at
www.twitter.com/WIMRA
or
www.twitter.com/sofiamapfre_en