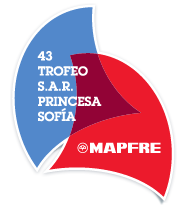 The fourth day of racing on the women's match racing course at the 43rd Trofeo S.A.R. Princesa Sofia MAPFRE began with a 2 hour wait for the sea breeze to fill in before completing the last two flights of the Gold Round Robin to seed the Quarter Finals.
The first two Quarter Finals were finished quickly as Claire Leroy (FRA) swept Lucy Macgregor (GBR) 3 -0 and Anna Tunnicliffe (USA) did the same to Ekaterina Skudina (RUS). Olivia Price (AUS) and Tamara Echegoyen (ESP) had to battle a little longer to beat their opponents, Mandy Mulder (NED) and Sally Barkow (USA), respectively.
The Semi Finals are now set: Leroy (FRA) will face Echegoyen (ESP) and Tunnicliffe (USA) will meet Price (AUS). The other four Quarter Finalists will sail off for 5th through 8th places.
Quarter Finals:
QF1 – Leroy (FRA) defeats Macgregor (GBR) 3 – 0
QF2 – Tunnicliffe (USA) defeats Skudina (RUS) 3 – 0
QF3 – Price (AUS) defeats Mulder (NED) 3 - 1
QF4 – Echegoyen (ESP) defeats Barkow (USA) 3 - 1
Gold Round Robin:
1-Lucy Macgregor, Annie Lush , Kate Macgregor - GBR : 4 wins – 1 loss
2-Anna Tunnicliffe, Molly Vandemoer, Debbie Capozzi - USA : 4 - 1
3-Mandy Mulder, Annemiek Bekkering , Merel Witteveen - NED : 3 - 2
4-Tamara Echegoyen, Angela Pumariega , Sofía Toro - ESP : 2 – 3
5-Sally Barkow, Elizabeth Kratzig-Burnham , Alana O'Reilly - USA : 2 - 3
6-Olivia Price, Nina Curtis , Lucinda Whitty - AUS : 0 - 5
The Semi Finals are scheduled to begin at 1000 tomorrow.
For more information, please visit
www.WIMRA.org
or
www.trofeoprincesasofia.org
.
The results are being updated live on
http://www.matchracingresults.com/2012/trofeo-princesa-sofia/
.
Follow the Twitter feed at
www.twitter.com/WIMRA
or
www.twitter.com/sofiamapfre_en