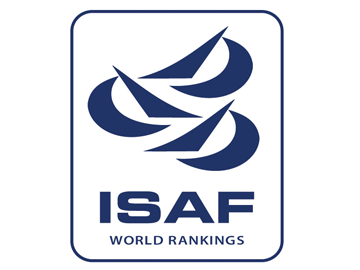 Anna Tunnicliffe (USA) and Ian Williams (GBR) have retained their place at the top of the Women's and Open Match Racing Rankings.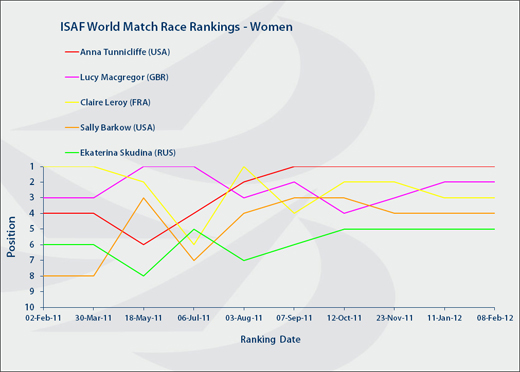 Women's Rankings
It was do a die for nine teams at the Grade 1 Women's Match Racing International Country Olympic Qualifying Regatta in Miami, USA.
Lotte Meldgaard Pedersen (DEN), Silja Lehtinen (FIN) and Tamara Echegoyen (ESP) did what they needed to do to qualify their country, but at the same time all three improved their ranking position.
Lehtinen took the regatta convincingly defeating Echegoyen 3-0 in the final; the win moved the Finnish sailor up to #6 jumping ahead of Echegoyen who is now one place behind her. Former World #1 Pedersen defeated Martina Silva (ARG) 3-2 in the Petit Final to seal Denmark's spot at London 2012. The narrow victory was sealed in the final flight after Silva fought back from 2-0 down. Pedersen's third place has moved her up to World #23.
Before the qualifying regatta teams had a chance to hone in their skills and gain ISAF Sailing World Cup points at US SAILING's Rolex Miami OCR, the second of seven World Cup Regattas.
Lucy Macgregor (GBR) took the regatta win to close the gap on Anna Tunnicliffe (USA) at the top of the Rankings to just 27 points. Runner up Olivia Price (AUS) continues her steady climb up the rankings and is now World #13 and closing in on a top ten spot.
Click here for the Women's Rankings
The next release of the ISAF World Match Race Rankings will be 14 March 2012.
ISAF World Match Race Rankings -
www.sailing.org/mrrankings
(From the ISAF website:
www.sailing.org
)