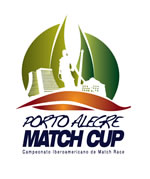 The final phase of the women's division of Porto Alegre Match Cup - 3rd Iberoamerican Championship Match Race began on Thursday in South Sailboats in Porto Alegre. The title is already in Brazil, you just need to decide which team will be champions. The first two races in the series were played best of five in the afternoon and the skipper Renata Decnop opened a 2-0 advantage on Juliana Senfft.
The fight for the title Iberoamerican ending on Friday with racing from 11 hours. The award would be the women's division was early evening for 15 hours due to the two finalists crews embark to Australia to compete in the World of Perth in search of job for Brazil in the 2012 London Olympics in the sport of match race.
Renata Decnop went to the finals by defeating the also Brazilian, Bejar Carolina 3 to 0. Already Sennfft Juliana, who had 100% utilization of the round robin stage, won by Argentina 3-0 to Martina Silva in the semifinals. Bejar and Silva began to fight for third place and Argentina skipper is ahead by 2-0.
The Open division (men and women) of the Ibero-American opens this Friday at 19 hours. Brazil participates with four teams and Argentina with three. Mexico will play the Open with the same crew of the women's division, commanded by Eliana Fierro, who finished in 7th place among the women.
The Ibero-American Match Race Sailing is a realization of the South with support from the International Sailing Federation (ISAF), the Ibero-American Sailing (BUCKLE), Confederation of Sailing and Motor (CBVM) and sponsored by Randon and Marcopolo through the Sports Incentive Act of the Federal Government.